Kasu - Verein traditionelle japanische Spielekultur
Unfortunately we have to cancel todays meeting on short notice because there is no electricity at Go7. 
We have decided not to open until 4 p.m. on Fridays in the future. This change is effective immediately and therefore also affects the upcoming event on June 17th.
Please remember this, so that nobody stands in front of closed doors. :)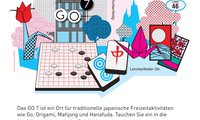 Am 11.06.2022 findet von 15:00 - 22:00 die offizielle Eröffnungsfeier des neuen Go7 statt. Alle dort vertretenen Vereine (Go7, Kasu, Origami) werden ihr Angebot bei freiem Eintritt für alle präsentieren, außerdem gibt es ein paar Snacks und Getränke.
Wir freuen uns auf euer Kommen!